I thought I'd stray away from today's Blog Every Day In May topic and tell you just a little bit about my weekend instead. It was one of those weekends where I just had a big old silly smile on my face for the whole three days (well three and a half if you include Friday night – which I am!)
It was not only Tom's birthday on Sunday but also my friends' Steph and Steven's birthdays on the same day. Sadly, I didn't get a chance to celebrate with Steven this weekend but I'll make it up to him soon. Anyway, it was filled with lots of birthday fun, brilliant music and loads and loads of food. Excellent, right?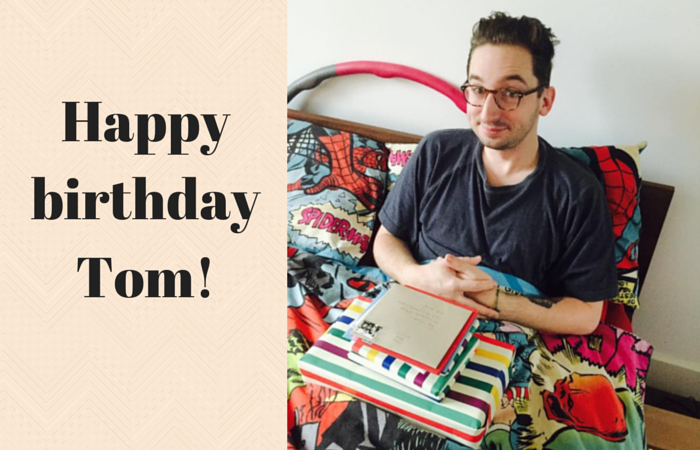 So, I thought I'd put together a quick little ten things that made me happy this weekend post. I hope you don't mind me being a little bit self-indulgent.
1. Steph and I went to the opening night of The Breakfast Club in Canary Wharf. We had a great catch up, excellent fried chicken and mac and cheese and a massive discount so it was practically free!
2. As well as the scrummy food there was some aces entertainment at The Breakfast Club too. Not only was the DJ busting out some brilliant tunes but on the very sparkly stage was a boy and his keyboard. He sang some of the most random but excellent songs including quite a few Disney numbers. It was mega.
3. Tom was allowed to choose whatever we did on Saturday and he chose for us to lie on the sofa, watch telly and then order a curry for dinner.
4. I bought Tom a couple of comedy dvds and Ghostbusters Lego
 for his birthday and he was super happy with them. Seeing him build it and being so happy with himself when it was finished really put a smile on my face.
5. Tom's mum and dad came to visit him on Sunday afternoon and brought a full kid's party tea with them! It was mega. Sandwiches, crisps, Mini Rolls, Party Rings and pop. The whole nine yards it was fab.
6. Just as we were getting over the excess of cake and biscuits Tom's brother and his girlfriend came round and we scoffed a face full of pizza whilst catching up on Masterchef and then watching Lip Sync Battle and 8 Out Of 10 Cats Does Countdown.
7. The 12 o'clock rule was firmly in place all weekend and it was totally needed. In case you're unaware of the 12 o'clock rule it simply means no getting out of bed before 12 o'clock. There are a couple of exceptions to the rule and that's to go to the bathroom and to make a cup of tea (to bring back to bed, obviously.)
8. It was a Bank Holiday so we had an extra day off. Mega!
9. Tom, Steph and I went out for drinks and eats on Monday and I ate even more mac and cheese (with chorizo this time) and they had the most epic burgers with all of the fillings. Steph had mac and cheese and pulled pork on hers and Tom had mac and cheese, pastrami and burger cheese on his!
10. We rounded off the weekend with a trip to Koko to see Motion City Soundtrack perform Commit This To Memory in full to celebrate the tenth anniversary of its release!
It was a jam-packed weekend but it was a brilliant one.
How was your bank holiday weekend? Tell me what made you happy.
Kisses,