I love Simon Pegg. Properly love him. In my eyes this man can pretty much do no wrong. So, when I was invited to a preview screening of his new film, Man Up, I jumped at the chance. The only thing is, it's a romantic comedy. Can he pull off a romcom? They're usually pretty cheesy and he's just, well, not! Is this going to be the moment he plummets in my estimations? Luckily not!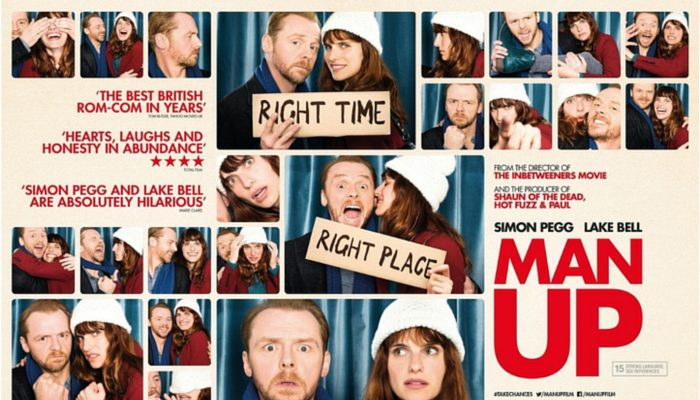 Have you ever had a case of mistaken identity? Tess Morris has and it inspired her to put pen to paper and write Man Up. One day she was stood under the clock at Waterloo train station and a man approached her, asked her if she was Claire and the cogs in her head started whirring. She said no but the possibilities if she had said yes were endless.
Nancy (Lake Bell) is 34 years old, single and hung-over again. She is becoming exhausted by the never-ending, awful set ups by her friends and is trekking across London to celebrate another decade of her parent's happy marriage. Nursing her sore head and trying to cobble together a toast for the anniversary party she meets the ever perky, self-help book loving Jessica (Ophelia Lovibond) who tries to encourage her to be less cynical and a little more open to opportunities but gets beaten down at every turn.
Mistaking Nancy for his 24-year-old blind date, 40-year-old divorcee, Jack (Simon Pegg) introduces himself. Nancy throws caution to the wind and decides to go with it. What follows is the most chaotic yet sometimes hilarious evening of her life that neither of them are likely to forget in a hurry. There is lots of drinking, highly competitive sportsmanship, an old class mate with a penchant for stalking and a long-standing crush, lost divorce papers, excellent dancing and Jack discovering that Nancy isn't actually his blind date.
Man Up is one of the best romantic comedies that has been released for a while. Although it may be a little predictable in places it is both fun and funny by the bucket load. Plus, you can't help but feel good after such a nice film about taking chances, being yourself, making decisions and rolling with the punches.
I actually felt pretty good about the world when I left the cinema and had a big old soppy grin on my face. I also had a bit of a crush on Simon Pegg too. Which was something I wasn't expecting. I think it may have been the Hugh Grant effect, you know what I mean? Like I don't like Hugh Grant but then I watch Notting Hill and fall a little bit in love with WIlliam Thacker. Like how I can't help but fancy Daniel Cleaver a bit in Bridget Jones. See, you agree now, right? Right!
Man Up is released in cinemas on Friday 29th May and I do suggest you go and see it.
Have you seen any good films recently that I should watch? Are you as much of a sucker for romcoms as me? Please do let me know in the comments I'd love to hear from you.
Kisses,