I've been keeping a close eye on my diet recently. Not "on a diet" as such but being mindful about what I actually put into my body. I've allowed myself treats when I've really wanted them but I've had to really, really want them. As a result I've noticed the scales slowly creeping down and I've generally been feeling better in myself.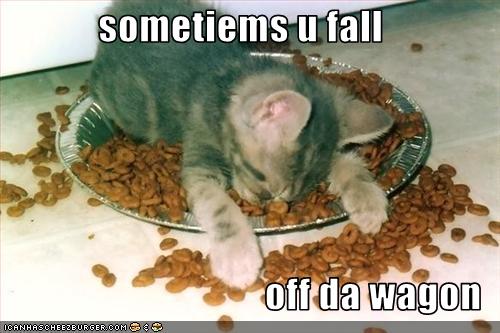 That was, at least, until Friday. On Friday I went for a welcome lunch with my new team at work and consumed a whole pizza. I then had more pizza washed down with pop and crisps that night at my friends', Steven and Bernie's, when we went round for horror movie night. Saturday, Steph and I trundled off to Cake International (more on that soon) where we scoffed brownies and then sipped bucks fizz at my wedding dress fitting followed by a trip to the pub and then on to Ping Pong. Sunday was a trip to the in-laws and a mega roast dinner followed by chocolate cheesecake and then home for Creme Eggs and Haribo. Monday and Tuesday haven't been much better either.
I can definitely feel it. My skin doesn't look as bright as it did, I feel more lethargic and I'm having more headaches and all in all I feel a bit gross. I've been avoiding bread for the most part and yesterday I had a baguette for lunch. The bloating I felt afterwards was horrendous. Enough to put me off scoffing a huge butty like that again in a while.
My tumble from the good diet wagon reminded me of something Ree Ree Rockette posted a few days ago about the call of the chocolate truffles. She reminds us that a small wobble isn't the same as falling off. OK, OK, so mine has been a pretty big wobble but that doesn't mean I should write off this whole week and just eat everything I can put my grubby mitts on. It's time to brush myself down, stand up straight and reach for the fruit and veggies again.
I've been doing things right for weeks and I know I physically feel better when I make the right choices. No matter how good those Easter eggs might taste it doesn't compare to the lull in my well-being I'll feel afterwards if I eat the whole thing in one sitting.
Wish me luck.
Kisses,